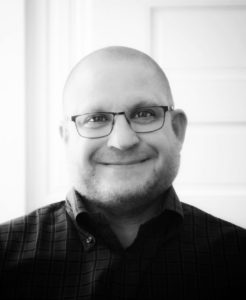 As Client Success Manager for SecureStrux LLC, Mark interacts with existing and potential clients on a regular basis. As the title implies, he is responsible for maintaining the SecureStrux/client relationship. He also dedicates a portion of his time to attending trade shows and industry events to market our capabilities to a larger audience.
Mark's first taste of cyber was in 2004 when the company he worked for acquired another company that provides cyber, forensic, social engineering and penetration testing. His interest was sparked and he has worked in cyber ever since. He likes to say that his area of expertise in cybersecurity is on the edge, specifically interacting with people in the social engineering and educational aspects. Mark holds an ITIL certification, and while it is not security-specific, it does provide a framework for the management of policies and control of an IT environment. He is currently working on his Security+ certification.
When asked why cybersecurity is important, Mark said "we live in a digital world with data collected and stored everywhere. It is very easy and convenient to set up accounts with various vendors but eventually, you have your personal data stored all over the cloud as well as on a company's servers. You are then beholden to their ability to protect your data." According to Mark that while it isn't something the average person necessarily thinks about in their everyday life, they should. As consumers in a digital world, we fall prey to the convenience that providing personal data provides us. Without cybersecurity, there would be a lack of standardized compliance, which leaves us all open to threat.
"It is important for individuals and businesses to understand this vulnerability. While state sponsored hacking tends to target certain industries or utilities, the lone wolf or cyber syndicate is interested in any data they can harvest. Small businesses, especially, are at risk because they tend to have the bare minimum of security and mistakenly believe that they are not a typical target."
Book(s) I am reading: For business – Traction by Gino Wickman; The Ideal Team Player by Patrick Lencioni; For personal – The Man Who Kept the Secrets: Richard Helms and the CIA by Thomas Powers
Podcast(s) I am currently enjoying: My Favorite Murder, Hidden Brain and Crime Junkie (I am obviously a fan of the forensics genre).
My advice to future cyber professionals: Cybersecurity is a rewarding and exciting career. The technology is always changing. There will always be a need to thwart the efforts of cybercriminals. It can be extremely fulfilling to know that you are one of the "good guys." As the world continues its march towards all things digital, the need for cyber-trained individuals will only increase.