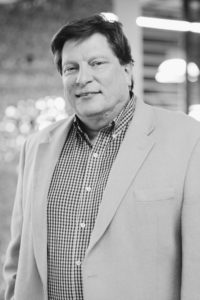 Roy 'Mac' Kincaid is a fan of a good cyber warfare movie, but this seasoned reviewer/auditor, instructor, and administrator didn't intend to have a long-term career in cybersecurity. Mac admits his first position in cyber "was a job interview that I tried to get out of… Somewhere along the way I decided to make cybersecurity my career goal and not just an excuse for a paycheck."
After decades of working with government and industry partners, to include writing implementation processes for the Defense Information Systems Agency (DISA), Mac is now called upon for his expertise as a CISSP professional specializing in McAfee enterprise Policy Orchestrator (ePO) and Microsoft's Windows operating systems, IIS and SQL Server. Mac is also the system visionary for DT Auditor, a PowerShell project that provides an automated insider threat solution for SecureStrux.
"Cybersecurity is the new cold war and it will be used alone and in concert with other physical means for world dominance," says Mac. He's noted that trends such as Artificial Intelligence (AI), more technology, and a greater dependence on technology overall will challenge businesses to evaluate asset values and the corresponding risk of loss. Mac sees cyber as a good market to get into, with a bright, profitable future, but he's clear to point out that the field is daunting with regard to its complexity and size. "Most people put too much emphasis on complex techniques and processes. There are many simple practices that can help a lot that are not that hard to implement… Good internet practice. Good password practice."
As a trusted SecureStrux advisor providing input to business decisions, Mac encourages organizations to use cybersecurity to minimize that risk of loss to the most valuable assets. "Consider REDUCTION in technology. This simple approach seems to get lost in all the cybersecurity requirements that we are forced to implement. Less dependence on technology is a good thing, if possible."
Looking ahead to developing the next generation of cyber experts, Mac admits that communication, training, and education are the most critical areas of concern. "I always feel like I never know enough. I don't even think I know how much I don't know. If I could know more, all the better." Ever-improving his technical competence, Mac holds himself accountable to be honest about his limitations and considers his value as an instructor. "The current process/culture is broken. What needs to be done is to inject training into the everyday work practice. It is on the job training combined with consistent training of theory. One way is to incorporate automated training into automated products… It is a life long journey."
A lover of travel and cuisine, Mac relates to the approach of the infinite expanse of technology the same way a hungry, smart, patient person approaches an infinite buffet of food. "Briefly survey the contents first. Find what seems to be the most appealing. Adopt a theme to follow, such as seafood, dessert, Mediterranean, etc. For technology, it could be networks, databases, programming, etc. Begin sampling the more valuable items, don't fill up on cheap, white, carbs. Look for the proteins. Pace yourself and enjoy the journey in food and technology."
See more about Mac and Our Team.