You may have noticed that things are starting to look and sound a bit different around here. It's been a time of evolution for us as a company and a brand. Today, we are unveiling a new SecureStrux logo. And, in the next few months, we will be launching a new website that helps everyone we work with better understand who we are and what we stand for.

This process has been both rewarding and inspiring. We have spent months thinking about the value we bring to our clients – and developing strategies and services that will continue to improve the relationships we have been so thankful to cultivate over the past decade.
But before we start talking about what's next for SecureStrux, we wanted to take a step back and show the intentionality that is at the center of our new brand, identity, and messaging.
Creating our Sandbox
We started our rebrand by taking a closer look at who we are and reflecting on what sets us apart. Who are we at our best? What do our clients appreciate most about us? Our leadership team answered those questions in a day-long workshop that helped us develop a communication "sandbox" for the future of our brand.
We started by identifying our archetypes, which became the foundation for how we talk and act. Simply put, archetypes are universally recognizable characters that got their start in literature centuries ago. The Magician. The Hero. The Innovator. We can all think of people and companies that embody the traits of these characters. By using archetypes to understand our personality, we unlocked a new way of talking about ourselves, which ultimately helped us unify our position and message.
Engineers with Heart
Through our conversations, we aligned on two key archetypes that describe the work we do and the way we do it: The Engineer and The Mentor. Like many other organizations in our industry, we are driven to solve tough technical challenges and secure our clients' operations to the highest level.
But what sets us apart – and what makes us so excited about the work we do – goes beyond the technical aspects of our work. We are mentors and partners. We care about moving clients down the path of becoming better, more secure organizations. That is why we will never create reports and walk away; we walk alongside our clients, helping them navigate the challenges and questions they face.
We're not just Guardians; we're Guides.
We develop systems that have a meaningful impact on the way our clients do business. And while we know our expertise speaks volumes, we also know that translating our capabilities into real results for our clients is more important than ever.
Back to Basics
We have heard time and time again that mentorship matters to our clients. It is why they trust us as ongoing collaborators and value the time we spend at their facilities, getting to know them and their work. But outside of those personal relationships, we realized that the brand we were sharing with the rest of the world did not do us much justice. Our website did not reflect our personality, our people, or our unique way of working. So, as we set out to refresh our presence "in the wild," we focused on one clear goal: simplicity.
More than a Makeover
Our goal of communicating simply is reflected in our new way of talking about what we do, along with the most recognizable aspect of our brand: our logo. We started evolving our logo – and our entire visual identity – with more collaborative exercises. In this case, they resulted in a list of what we like (sophisticated visuals that communicate our professionalism) and what we don't (stock photos and overly complicated graphics).
We took part in shaping our new visual identity, which is embodied in our new logo. We will skip over all the technical aspects of how it is made and what every element represents, but the short story is this: it is designed to communicate protection, structure, and compliance. The dots around the outside of the logo represent data, and all of the critical information we secure for our clients. As you move toward the inside of the logo, these dots disappear, revealing the shape of a shield. In many ways, this shows what you can expect when you work with us: a shield of security, assurance, and resilience. We provide ongoing support when our clients need us most and arm and sustain them with the knowledge they need to navigate an increasingly complex cybersecurity landscape.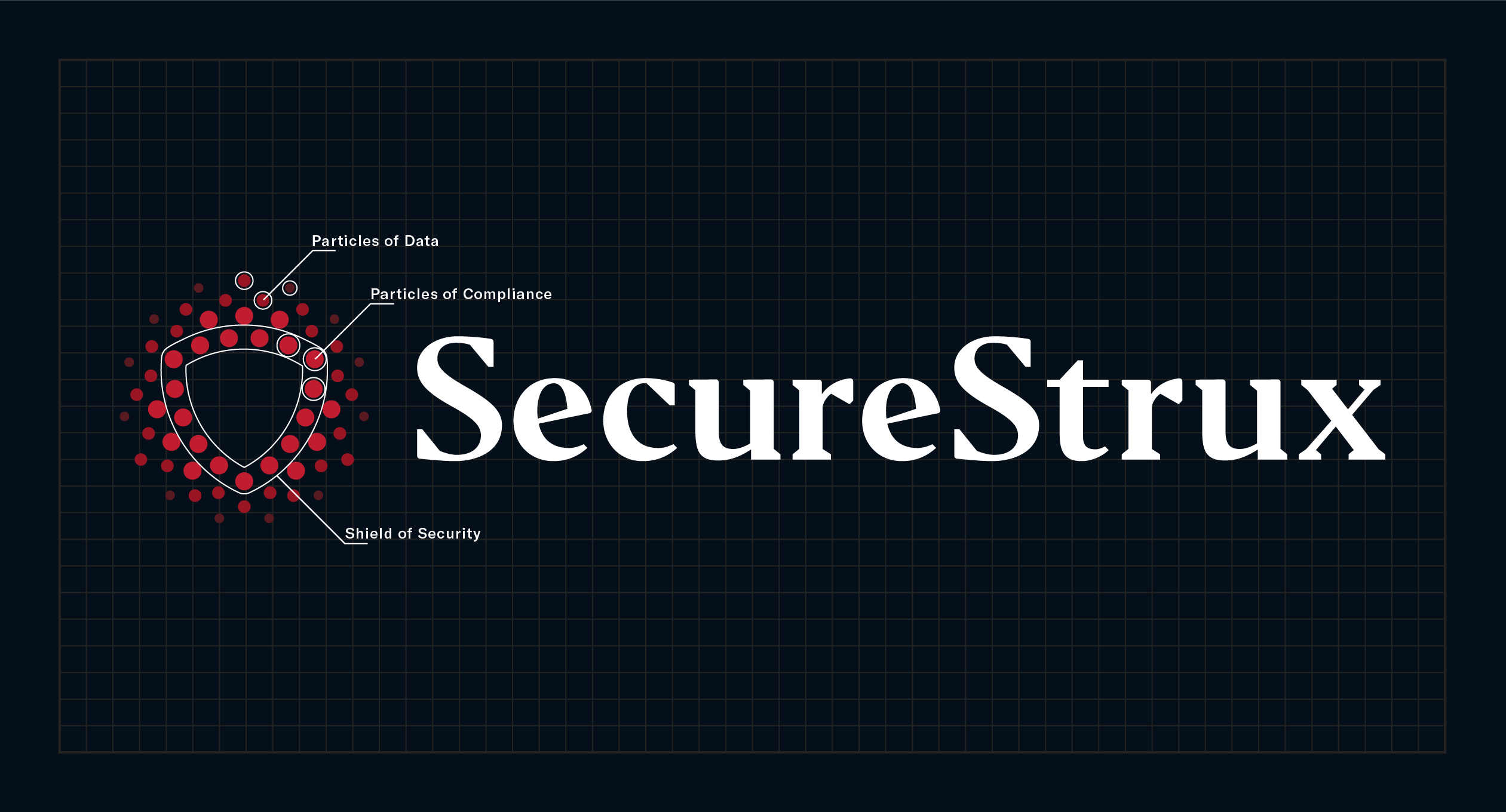 As we start to roll out other elements of our new identity, you will see that we are also moving away from a focus on numbers and stats – and shifting our perspective to emphasize the important relationships we build and organizations we protect. We partner with real people across the country and while we cannot always share their individual stories, we want to emphasize that our work is not just about meeting technical requirements; it is about helping organizations become more secure, resilient, and prepared.
Beyond our Rebrand
As we start to cast a vision for the future of our company, there is one thing you can be sure of: the ideals and mission that guided us from the day we started are never more true. And they will not change. You will soon start to see a new SecureStrux look, but rest assured: we are still providing the same great service; a shield of security.