Arlington-based SecureStrux showed their small business versatility when security managers at the National Guard asked them to help upgrade their network infrastructure and harden it for near future CCRIs. Since the third quarter of last year, the woman-owned firm has performed on five different contracts with the Guard totaling over $1M.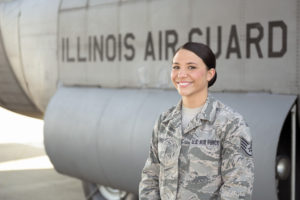 Because of SecureStrux's strong and longstanding Command Cyber Readiness Inspection (CCRI) reputation, former DoD Intelligence Officer and SecureStrux Managing Partner Sienna Crawford was introduced to the National Guard program office in Colorado where she was asked to help with ongoing CCRI Staff Assist Visit(s) as a Woman-Owned Small Business.
As an accomplished career Veteran of the Air National Guard, Sienna was able to lead her team to successfully complete the initial project and because of the teams success and through word-of-mouth, SecureStrux was brought on board with the Louisiana Army National Guard in September of 2017 to assist them with their upcoming CCRI in May of 2018. Because of the partnership between the LAARNG and SecureStrux, LAARNG earned Excellent rating on both their NIPRNet and SIPRNet inspection.
Not stopping there, in November 2017, SecureStrux was awarded yet another National Guard contract to support a full turnkey deployment for 802.1x for both NIPR and SIPRNet environments. Using a multi-disciplined approach, Sienna's team prepares organizations to meet CCRIs requirements to ensure the network installations are CCRI-ready from day one. This proven methodology saves both time and money for the unit.
The Hawaii Army National Guard (HIARNG) awarded a contract to SecureStrux to support them in their database remediation and CCRI preparation in March 2018. Again, because of the partnership with SecureStrux, HIARNG earned two Excellent CCRI scores. In addition to wins with the Illinois Army National Guard (ILARNG) and the New York Air National Guard to provide the states with a CCRI SAV in preparation for their upcoming CCRI, SecureStrux was recently awarded a contract for CCRI SAV support by the Florida National Guard in July.
SecureStrux's diverse team of cyber experts includes long-standing Defense Information System Agency (DISA) inspectors who bring a wealth of hands-on, practiced experience to help DoD directorates reinforce and maintain secure CONUS and OCONUS operations. Since incorporating in 2008, SecureStrux has worked with the Joint Forces, several military research institutions and a wide-range of private businesses to help secure their data and be sustainably ready.
SecureStrux is proud that nearly half of its workforce personnel are Veterans of the United States Military.