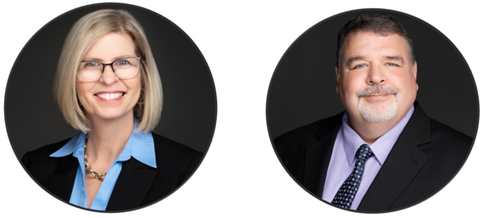 Angie Gabrielson & Brian Kimball
Since January this year, SecureStrux has invested in developing its leadership team to include Angie Gabrielson as VP of Federal Programs and Brian Kimball as Director of IT & Managed Security Services.
Gabrielson spent the last five years in senior leadership roles driving business development and program management for the US Army, US Marines, Defense Information Systems Agency (DISA), and the US Department of Education.

Kimball formerly served at DISA, where he successfully stood up an architecture that produced a two-year clean-up time with zero outages and notable success identifying and mitigating costly hard-coded flaws while he worked for commercial customers.
"Our team of subject matter experts has always been our strength,"

says SecureStrux Founder and CEO Nathan Shea.
"We're looking forward to further solidifying our position in the marketplace over the next five to seven years by empowering and elevating highly-skilled individuals like Angie and Brian who contribute to our culture of ownership with the freedom to innovate, grow professionally, and be of service."
Since Gabrielson's start in January, her responsibilities have included business development, sales, proposal development, contract management, program delivery, and client satisfaction for providing cyber services across many federal agencies. Most of her experience has been developing and delivering information technology solutions to Department of Defense clients.
"I'm the spouse of a retired Army officer, so I have a special affinity for delivering DoD solutions that enable and protect our military and directly contribute to the warfighter," says Gabrielson. Outside of her work, Gabrielson is a fierce advocate for people living with Moyamoya disease, a rare cerebrovascular disease impacting her family.
"I come from a family of fighters, so I take great pride in helping my customers win the cyber battles that help to keep our nation secure."
Kimball started with SecureStrux in July to lead the company's Managed Security Services business unit. With rich experience in healthcare technology and federal systems to include the National Archives and the Pentagon, Brian is applying his program management background to realize SecureStrux's growth strategy that extends beyond DoD into the public and private markets that are driven by regulatory compliance requirements.
"There's nothing better than creating efficient, proactive, easy-to-maintain, and high-quality services for our customers."
"I've enjoyed the various challenges and bringing systems and processes into a more mature state," says Kimball. As a supporter of the Baltimore Boxing team, Kimball manages the club's online presence and streams their live boxing events. "I enjoy getting my hands dirty doing physical work -it doesn't matter what it is- I'm always ready to help. I believe in working hard, community, and most importantly, family," he says.
"SecureStrux maintains a culture of excellence with deep roots in the DoD cybersecurity community. Angie and Brian's leadership will help our new and well-established customers customize cybersecurity programs through cost optimization and managed compliance resulting in improved security posture," says Shea.
"We believe in putting cyber hygiene first, and our experts work hard and smartly as trusted advisors to apply guaranteed, proven cybersecurity methodologies that shape, optimize, and sustain the nation's most critical systems."
Since 2008, SecureStrux has partnered with hundreds of organizations within and outside the DoD to help them understand and proactively manage their risk. Along with Gabrielson and Kimball, the company's Thirtyfive-plus employees have the depth and breadth of necessary industry experience as former active duty, cleared defense contractors, and commercial technology integrators to assist a wide range of clientele that includes research and development and other critical infrastructure organizations such as Utilities, healthcare, manufacturing, and education.